Even the open house is hands-on!
"I learned more in two hours than I do all day at school!"*
*Incoming TSS student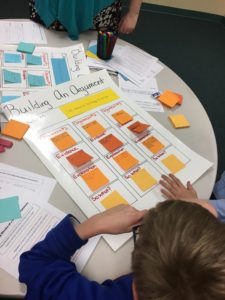 Students and their families are invited to participate in our hands-on open house on June 14th from 6pm-8pm.
The Sycamore School is an experiential, problem-based learning secondary school with no homework for our middle schoolers!
Explore The Sycamore School's innovative, experiential approach to education at our June family open house. Students and families curious about how we do school differently can explore problem based learning in 3 consecutive 30-minute "pop up" classrooms – giving prospective students a taste of what it's like to learn at The Sycamore School.
Parents will have ample opportunity to observe student activities as well as hear from staff about the school and our curriculum.
Families are encouraged to attend for the entire event. Please register so that we can accommodate all participants.
Please note: the open house is held off-site at a nearby Falls Church location. The Sycamore School opens this summer in Arlington's Ballston neighborhood.