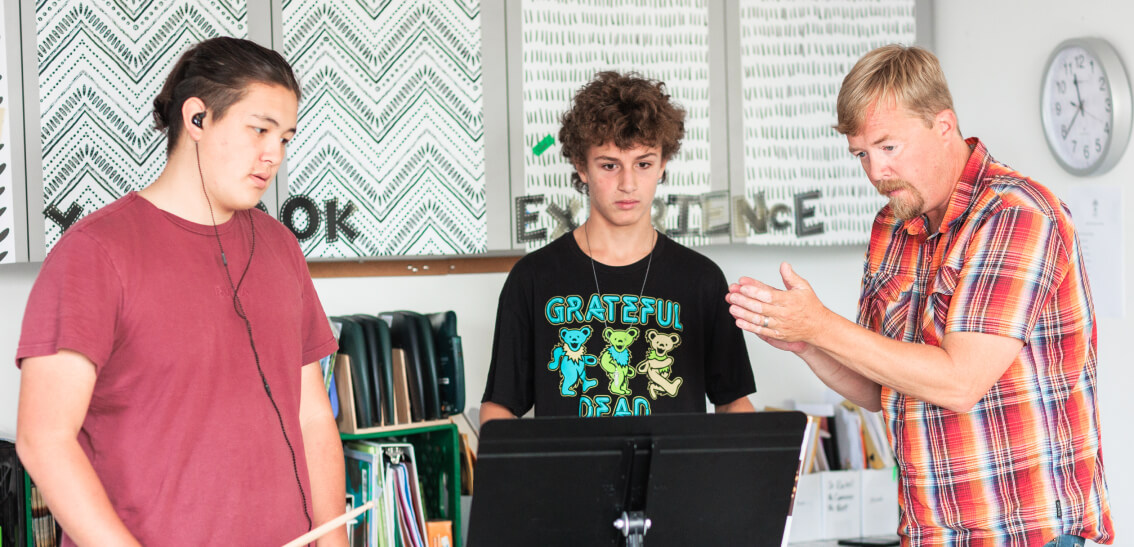 A Private Middle and High School: A Small Learning Community
Intentionally Small
In order to provide an effective personalized, integrated and engaging education, our learning community is intentionally small. For 2022-2023, we will cap at 70 students in 5th - 12th grades.  The school plans to grow to a maximum size of 120 students in the upcoming years.
Mid-Year Transfers
The Sycamore School has rolling admissions; we accept students throughout the school year when we have space in a grade cohort. If you are interested in switching schools mid-year, please contact us directly to discuss your individual situation. Below outlines our general admissions process.  
2022-23 Admissions Schedule
For 2022-23 we will serve 5th-12th grade students and cap at 70 students. Applications will be accepted starting January 1st. Under our early application program, completed applications received by January 31 will receive notification by February 15th. Applications received after January 31st will be reviewed and notified on a rolling basis if space remains available.
STEP 1 – SCHOOL INFORMATION SESSION & TOUR (RECORDED)
Interested parents should attend a school information session, which is led by our Head of School and includes a conversation with current staff and students. Information sessions are generally held monthly and are listed under events. Parents and potential students will learn more about the school by speaking with a panel of current students and seeing the school in action.
STEP 2 – APPLICATION
To begin the Online Application process, Create an Account. Upon account creation, you will receive an email containing a verification link. Once your email address has been verified, log in to your account and Create A New Student Application for your child. You will then have the flexibility to log in and out of your account and access your open application.
The application requires the following information:
Copies of recent academic records/current transcript
Copies of educational assessments and other relevant evaluations
Student work samples
A recent small photograph of the applicant, attached to the application
Non-Refundable application fee of $100.00
Two Confidential Teacher Feedback Forms (at least one from a current teacher) emailed directly to the school by the teacher
STEP 3 – PARENT & STUDENT INTERVIEW
A parent and child interview is required but can be done in one or two sessions. Some parents prefer to do the initial interview alone and others prefer to have both interviews done during the same meeting. Either option is fine. The interview process allows families to learn more about The Sycamore School, ask questions and determine whether the school is a good fit for their child.
STEP 4 – SHADOW DAY
If both the school and the family feel that TSS might be a good fit, applicants are invited to participate in a shadow day, where they spend a day at The Sycamore School paired with a student ambassador and follow that student's schedule throughout the day. Applicants are encouraged to take part in classes and actively participate in school activities. The shadow day gives applicants an opportunity to directly experience the school and allows teachers to directly observe the applicant.
STEP 5 – NOTIFICATION
Once all application documents are submitted, we review the application carefully to determine whether your child will be a good fit with The Sycamore School and would benefit from our program. We will inform you of our admission decision within two weeks. Once you return the enrollment form, with a $1,500 non-refundable deposit, your child will be officially enrolled for the desired school year. The deposit will be applied to your tuition.
STEP 6 - ENROLLMENT
With your admissions notification, you will receive an enrollment and deposit form. Return this along with a  $1,500 non-refundable deposit to officially enroll your child. The deposit will be applied to your activity & technology fee.
*The Sycamore School does not discriminate on the basis of race, color, gender, religion, national origin, or sexual orientation.