Parent Blog: How The Sycamore School Helped to Transform My Daughter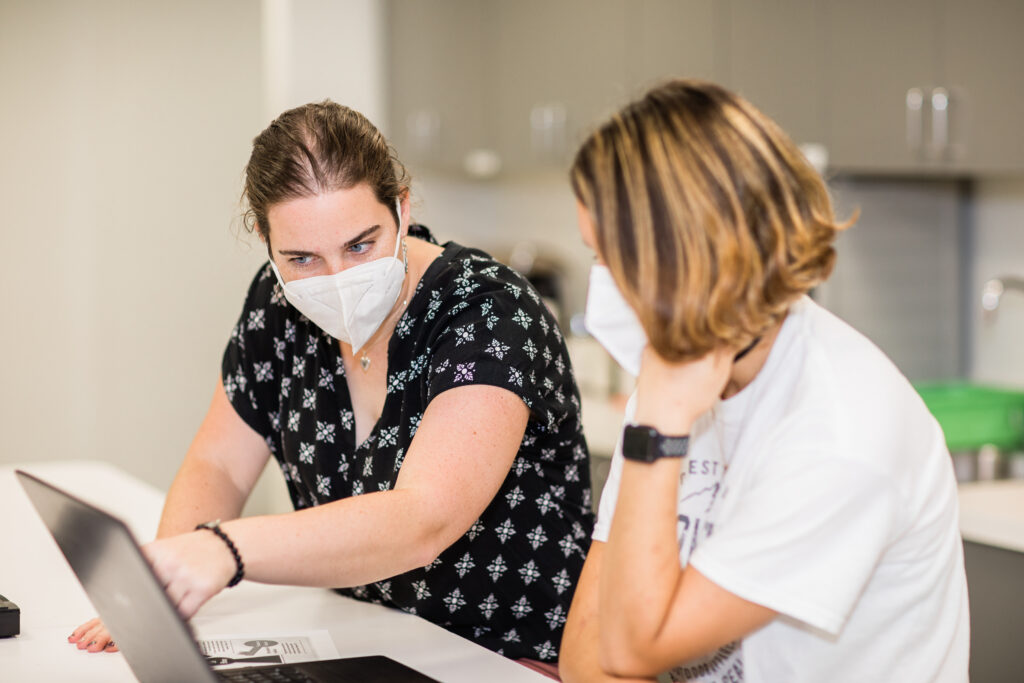 This blog is a part of a series where parents of The Sycamore School's students share their experiences on what it's like to be a part of the TSS community and the impact TSS has made on their children. Through these blogs, we hope you'll gain inside knowledge and understanding of what to expect when you enroll your student in our small, independent school using the mastery-based learning approach.
See the previous blog: How The Sycamore School is Helping us Navigate the Middle School Years
I'm the proud mother of a 14-year-old first year in the High School cohort of The Sycamore School (TSS). My daughter loves school, takes accountability for her work and actions, is a firm and responsible babysitter for her younger sister, a talented artist, skipped a grade, and even took up Japanese in her spare time that the early days of the pandemic presented.
But before you mistake my pride for bragging from a stereotypical North Arlington mom, please understand that I write all this with gratitude for how far she has come. You see, she transferred to TSS in November of her fifth-grade year as a scared, angry girl who was so emotionally paralyzed by anxiety that she once put her elementary school in lockdown after she fled math class during an anxiety attack, and the administration thought she might have left the building. She developed a visceral, heartbreaking anxiety response to brushing her teeth, showering, and going to bed because they brought her one step closer to having to go back to school. Her fear of math was so great, that she essentially didn't do it for two years in her prior school. This was a girl who hated school so much, that she tried to get out of a moving car one morning. But it wasn't my daughter's academic future that worried me, it was whether she'd give herself the opportunity to have a future at all.
So you can imagine our shock and amazement when, within a month of transferring to TSS, she called home to ask if she could stay after school to get extra practice with her math teacher. When she asked to stay at school to join after-school clubs. And when she started to wear her TSS sweatshirt most of the week and on weekends (not just on the Fridays required of her).
Family and friends sometimes ask me what it was that turned my daughter around, helped her channel her energy in a positive direction, and become the happy, relaxed, and well-adjusted young lady she has become. While we pursued multiple therapies that aided in her transformation, the biggest change I can point to is The Sycamore School. The teachers and staff at TSS are phenomenal. They have a way of understanding these kids in whom others have given up hope. Kids who are misunderstood — whose anxiety, ADHD, depression, and other factors cause them to fear school, lash out at themselves or family when they come home frustrated, or who just haven't thrived in a traditional school setting.
The experiential, mastery-based teaching style suits students like my daughter – bright students who thrive on student choice and high expectations when they are given agency to chart their own path. Rather than rote memorization in separate subjects like history, geography, and English, students explore through project-based learning. One example from fifth grade is she created her own country, complete with a currency, topography, flag, and the like – and used that to learn and explain the pros and cons of different governance styles. Similarly, she has gained tremendous research, public speaking, and presentation skills as part of her "Psych!" experience class in high school. The result is a curiosity and love of learning, with research, writing, and speaking experience that will serve her well.
My initial fears of a restricted social life due to the small student body have proven to be unfounded. She has a tight group of friends, a combination of TSS students, former students, and friends from local schools, who are a delight to have at our house. They are polite, respectful, and exert strong peer pressure within their peer group to make good choices and do the right thing. They even put their dishes in the dishwasher when they're done!
If after reading all this, you still want to classify me as a bragging, stereotypical North Arlington mom, I won't mind. I'm incredibly proud of who my daughter is, and how much she had to overcome to become who she is. Just please understand that my pride and bragging extend to The Sycamore School, and to founder Dr. Karyn Ewart and the entire staff, for their vision and dedication to the school and all its students. These are amazing kids who I'm convinced will go off to make the world a better place, and I'm convinced that TSS has been the key to unlocking their potential to make it all possible.
Written by TSS parent Heather