The Sycamore School is Moving to Rosslyn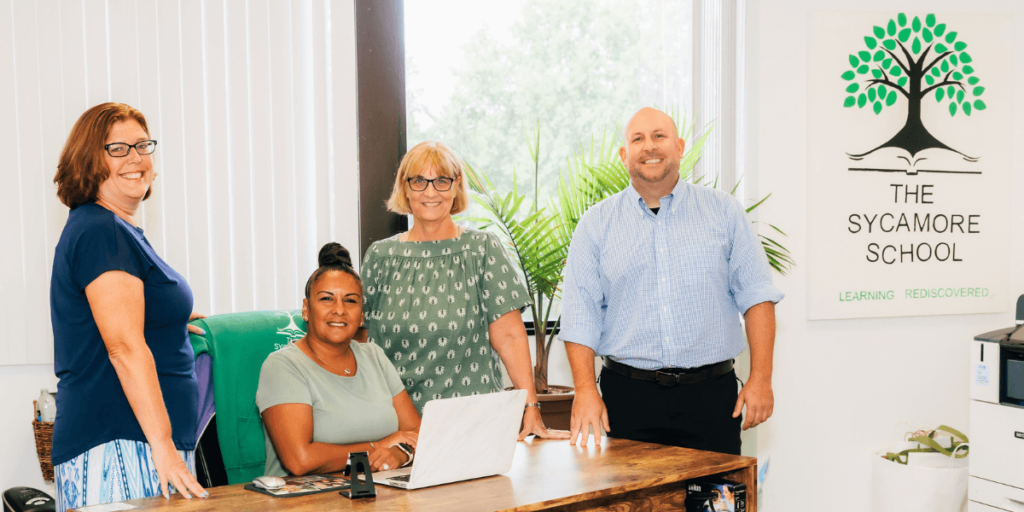 The Sycamore School is moving to Rosslyn!
After six years in Ballston, TSS has decided that we are ready to take the next step in our journey and move into a space that accommodates our growth over the years. From how far we've come, to how far we hope to go, we know this move will be beneficial to our students, staff, and community.
Where We've Been: Ballston
When TSS was founded, it was designed as an urban model school. Being based in Arlington may seem like a limitation, since there are not acres of land available to house a large campus. However, we take this as an opportunity to explore the countless museums, nature centers, and historical sites that are only a metro ride away.
We utilize community resources to augment our on-site resources. For our version of PE, which we call Movement & Mindfulness, we regularly visit local parks and take walks on bike trails. Our Fridays are dedicated to community-based learning, so we use this day to go on field trips, community service outings, and participate in extension learning activities. We've partnered with other local nonprofits such as Culpepper Gardens, Doorways, New Hope Housing, and AFAC, to support their missions and engage our students in community service experiences.
We also regularly hop on the metro to access museums in D.C. Being located right outside D.C. gives us the unique opportunity to apply our Mastery-based learning concept by giving students regular opportunities to apply the skills they are learning to real world situations. For example, one Friday, two of our middle school classes visited the U.S. Botanical Gardens, which housed an exhibit about sustainable agriculture and where our food comes from across the world. Students viewed the exhibit and discussed how it related to their Good Eats Experience class that is studying Food and Food sustainability.
Where We're Going: Rosslyn
Our new space will reflect our growth and expansion status. We currently serve just over 60 students and would like to double that in the next decade. This steady growth would allow every student to feel like they have a peer group, while maintaining a small school feel and low student to teacher ratio.
In many ways, our new site will be similar to our existing space. We'll be on the third floor of an office building walking distance to a metro stop, green space, and lots of local businesses. We'll create a school within an office building floor by having an insular space. Once you walk through our lobby doors, you'll encounter a reception area, staff offices, connecting classrooms, and common areas all enclosed within our space. We'll have everything that we have in our current space plus more room in an updated building with new amenities such as an updated ventilation system, increased security, and gender neutral bathroom options. One of the exciting aspects of the move is that our space is a shell, so we can create exactly the space we want.
Our campus itself will look quite similar to our existing campus. We'll have lots of light and open, modern, and adaptable spaces. As a community, we'll get to decide what features of our current space we want to keep (our student silhouettes) and what aspects of the space we want to alter. Rest assured, we'll still have our makerspace, black box, and canteen along with more classrooms, office space, and a teacher work area.
While we have to say goodbye to Ballston, this move gives us the opportunity to have a new community space and explore Rosslyn, home to many parks, businesses, and new adventures. The new space is very close to D.C., so we can walk over the bridge into Georgetown, Teddy Roosevelt Island, or the Iwo Jima Memorial.
Our Next Adventure Awaits!
We're excited and grateful to be able to stay in Arlington and find a space that welcomes our school. It took us two years to find the right location for our new home. We had a pretty long list of requirements, which included walking distance to the metro, access to green space, adequate parking, safe student entrance and exit options, and the ability to post signage.
This new space will allow us to grow and expand our school community. We can expand within and beyond our floor, giving us the capacity to reach our goal of doubling our student body. We'll connect to a new community in Arlington and explore that neighborhood— we're already brainstorming ideas of future field trips, lunch out options, and business partnerships. We're looking forward to joining the thriving Rosslyn community!