Opening Day In-Person Countdown!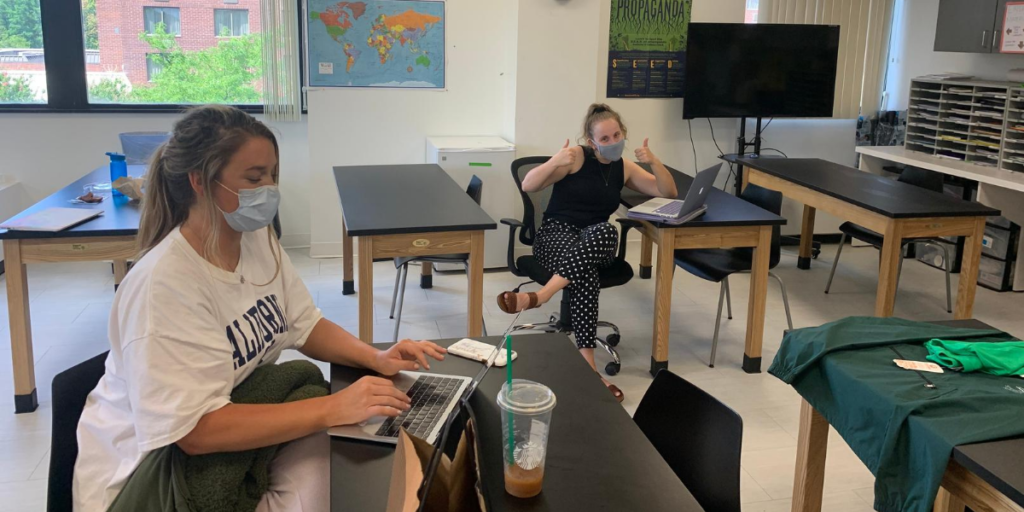 It's one week before we open our doors (literally) for the new school year at The Sycamore School!
It's been a wild ride since we had to switch to a virtual model this past spring and as we've been preparing to resume class in-person next week.
Every summer at this time, staff wish for an extra planning week to get just *one* more task done. Even though our core team works all summer preparing for the upcoming school year, it never feels as if we have enough time. There is always more we want to do to prepare for the upcoming school year. This year is no different. While there are still those little items on our to-do list that we are scrambling to finish, the hard work is done.
We are ready.
There is always excitement in the air the last week before school starts. This year the excitement is heightened. While we worked non-stop this summer developing our reopening plan and revising our class offerings, that collaboration was done over email and via a multitude of ZOOM meetings. Now, the majority of our staff are back in the building and we are honestly overjoyed to lesson-plan and collaborate in-person. Yes, we are still keeping our six-feet distance and wearing masks, but it's invigorating to actually be together in the same workspace. In one week, we will welcome the majority of our students back for in-person learning (masked). There is a giddy sense of anticipation unlike any other start of the school year. It feels like the first day of kindergarten. We can't wait to see our students again and welcome them back to The Sycamore School.
The development of our reopening plan was done in a true TSS fashion. The Sycamore School is a Mastery-based learning school. Choices, flexibility, and a focus on the process are three of our core tenets. Naturally, we incorporated these attributes into our reopening plan.
Choices
At TSS, we offer our students choices and they have a voice in their learning. So, it's no surprise that students had a choice as to how they access learning this school year. We are offering full-time in-person learning; parents can also opt to have their student attend remotely. We even offer our remote students the additional option to attend in-person on our Community-Based Learning Fridays each week. It's all their choice. The vast majority of our families have chosen our in-person option, but we have a robust integrated plan for all our remote learners.
Flexibility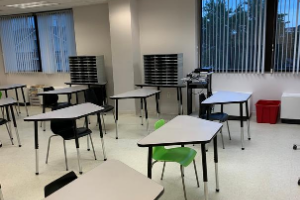 We've made considerable adjustments to our physical facility as well as our lesson plans. HVAC filter upgrades, plexiglass shields, individual student desks, and stairway utilization are just a few of the physical changes students will see this year. Our parents have also noticed our school supply list was longer than usual. All students will have their own supplies. No shared dry erase markers, colored highlighters, notecards or pencil sharpeners. No communal seating, sharing food, or contact sports. No outside visitors (including parents). Students and staff must wear masks when inside the school building. This means we need to have regular mask breaks for in-person learners and screen breaks for our remote learners. We will continue to use Google classroom and Zoom as our online platforms while also weaving in hands-on learning opportunities for everyone. As always, our learning is individualized to each student. Our core staff have been with me throughout the summer, planning lessons with both remote and in-person learning in mind. We want to make sure that 1) our remote learners are engaging with our in-person learners and 2) we can shift seamlessly from in-person to remote, and back to in-person. We have remote learners, remote teachers, in-person learners, and in-person teachers. Managing all this technology has been no small task. A big part of our staff orientation week involves running our in-person and remote learning platforms together, to ensure that they work (and to have a plan B and C, when they don't work). Today's ZOOM outage reminds us that a backup plan is not a "nice to have" in 2020, it is a necessity.
Process
Learning is not about jumping straight to the answer. All the steps in the learning path are important in the educational journey. One of the core tenets of The Sycamore School is to focus on the process; that's where the real learning happens. This emphasis exemplifies TSS not only in our approach to learning but also in how we formulated our reopening plan. Since March, we have kept our parents, students, and staff involved in the development of our reopening plan. We have repeatedly surveyed them and were mindful of their preferences and concerns in our planning. It's been an ongoing process and not without plenty of bumps. However, transparency and engagement seem to have lessened anxiety and promoted confidence. We will continue this transparency and engagement throughout the school year to ensure we are listening to and meeting the needs of our community.
Planning
With opening day a week away we are taking a quick moment to reflect upon how far we have come. We've done a lot of planning and preparation for reopening and we're ready. Of course, being "ready" in 2020 has taken on a different definition. While we have involved all the participants in the conversation and thought of all the potential pitfalls and issues, 2020 will throw at us whatever it wants. We know that if in-person learning doesn't work out, we have a robust remote learning plan that will keep our students engaged and learning seamlessly. Additionally, from November 25th – January 18th, 2021, we'll go remote, as a proactive step to avoid possible in-person exposure during the height of flu season and family travel.
Community
As we re-open, our initial focus is on building our sense of community. Teachers will focus on getting to know each student, helping them feel safe, seen and understood. Relationship building is at the crux of our learning platform and that is what we'll focus on.
See you Monday!